Current water level at Fisheating Creek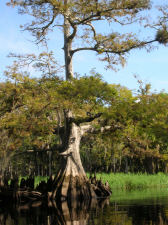 The creek was paddled by native Floridians trading goods from Lake Okeechobee to Arcadia in earlier times. It was explored and mapped by the Army in the 1840's. In the early 1900's the Lykes family purchased the Fisheating Creek property and approximately 300,000 acres of land in Glades and Highlands Counties. The Fisheating creek property was held by the Lykes family until the 1980s when it became the focus of a number of lawsuits. The lawsuits were started when Lykes closed the creek to the public causing the locals to begin demonstrating. The creek had for years been a focal point for the community. Marriages were consummated there, births celebrated, and burials performed. Many made their livelihood from fishing and trapping. Most spent many of their formative years along the banks or in the waters of Fisheating Creek.

The cause attracted support from paddlers, campers, fishermen, hunters and many who were concerned that the navigable waters of Florida were in danger of becoming inaccessible. The local Sierra Club, Calusa Group became involved when some of the members assisted in the formation of the non-profit group named Save Our Creeks. The group was headed by Becky Hendry. Save Our Creeks is currently headed by Ellen Peterson. The group continues to be involved in aspects of creek management which is controlled by the Florida Fish and Wildlife Conservation Commission as a Wildlife Management Area.
In 1999, just ten years after the first closing of the creek, the final lawsuit ended when a Glades County jury found the creek to be navigable and therefore public lands up to the mean high watermark. Celebrations were held (and nobody was thrown off the creek and nobody was tossed into the local pokey). David Guest (now a lead lawyer for Earth Justice, Florida) along with Monica Reimer were honored. Florida State Attorney General Bob Butterworth, our Florida hero, still has an award to be collected when he has the opportunity to come to the creek.
Fisheating Creek Campground in Palmdale, FL was opened by Fisheating Creek Outfitters. Paddlers, campers, boaters are welcome. Outside of the campground, camping is free anywhere along the creek corridor.
The Governor appointed a Settlement Agreement Advisory Board (SAAB) that is made up of 13 members drawn from Save Our Creeks, ECOSWF, Lykes Brothers, Lykes Leasing, an environmental group and a member of the public.

The SAAB assists in overseeing the management of Fisheating Creek. Florida Wildlife Commission and Save Our Creeks continue to function in support of the creek and are at present working to implement the opening of Fisheating Creek as a paddling trail through Cowbone Marsh to Lake Okeechobee. This was mandated by the Settlement as the creek was determined to be navigable from the headwaters to Lake Okeechobee.